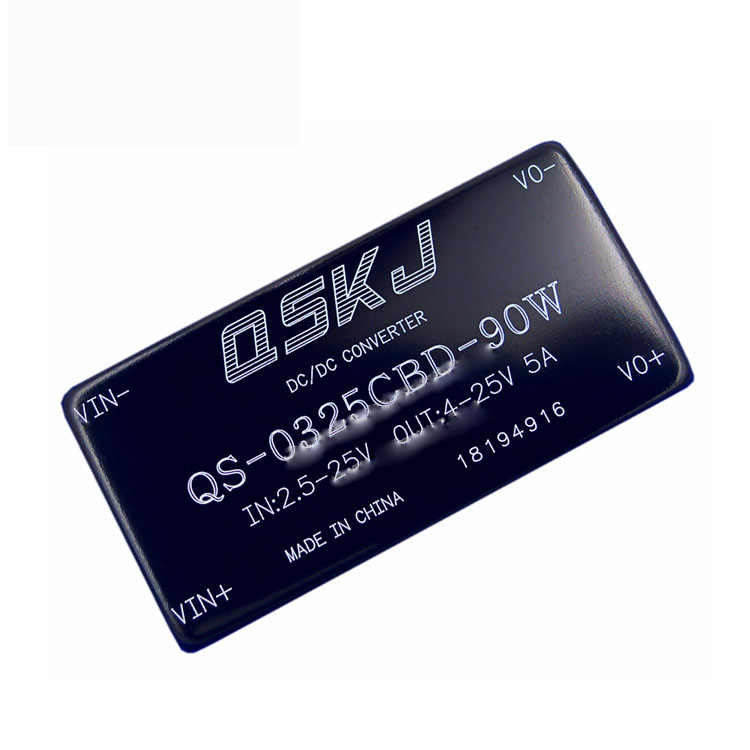 DC-DC Converter 2.5-25V to 3.5-25V 3A-4A Step Up Module QS-0325CBD-90W
---
Brand: QSKJ
Model: QS-0325CBD-90W


Parameters:
Module Properties: Non-isolated step-up module (Boost)

Input Voltage: 2.5-25V(Input Voltage must lower than output voltage)  

Output Voltage: 3.5-25V

Input Current: 7A (Max)

Output Current: 5A (Max)

Output Power:

30W MAX (Input Voltage ≥3V)

65W MAX (Input Voltage≥12V)

Input 12V output 19V Max current 5A,higher than 4A need to add heat sink.

Note,The above data test in air,Temperature 20°c.When you use,influenced by the environment, please make sure that the power tube surface's temperature is less than 80°c.

Output Power:Natural cooling 72W(Max), Strengthen cooling 100W(Max)

Conversion Efficiency:12V to 24V 3A efficiency is 92%,12V to 19V 3A efficiency is 93%

Output Ripple:less than 50mV

Broadband:20M

Operating Temperature:Industrial(-40°c to +80°c) (When temperature higher than 40°c,Please reduce power for use or add heat sink)

Full load temperature rise: 40°c

No-load current: Typical 30mA

Load regulation: ±0.5%

Voltage Regulation: ±0.5%

Dynamic response speed: 5% 200uS

Short-circuit protection: None.(Please add fuse or protection circuit at the input port.)

Input Reverse Polarity Protection: None.Please Series diode at the input port

Wiring: No need Welding,with terminal.

Size: 50.8(L)*25.4(W)*11.2(H)mm
Applications:
DIY a output adjustable power supply.

DIY a laptop power supply.

Boost charger.

Power supply for your electronic equipment.