DC-DC Converter 8V 12V 24V (8V-35V) to 5V 8A Non-Isolation Buck Step Down Module 2/4 USB Output Car Charger QS-1205CBUM-8A
---
Brand: QSKJ
Model: QS-1205CBUM-8A
Description:

4 independent dedicated charge management IC, can effectively support a variety of mobile phone maximum current charging, charging speed, safe and reliable.

Charge identification IC compatible with Apple's full range of products, the vast majority of mobile phones can achieve the fastest charging speed.

Support 4 USB at the same time 2A current charge, fast charging current, the total output current up to 8A.

MOS tube reverse input protection, maximize conversion efficiency, reduce losses.

Output with over-voltage protection, to effectively protect the phone.

8-35V wide input voltage, 12V 24V car can be the perfect support.

Synchronous rectification program can effectively reduce the heat, improve efficiency, the highest efficiency up to 96%.

Industry advanced flat-wire high-current inductors, large current heat, conversion efficiency.

4 high-quality chip capacitors, plus a large capacity MLCC capacitors, lower output ripple, less interference.

High-quality double-plated gold USB port, life is 2 times the normal USB.

Dimension 54(L)*39(W)*21(H) mm

The module is QSKJ latest non-isolated step-down power supply module (BOOST)
Usage:
Mobile phones, digital cameras, tablets, navigators, tachographs and other devices that require USB power. Can charge 4 mobile phones at the same time, 4 total current 8A.

A variety of input and output, support for terminal input, DC input, output support 4 * USB output, the output terminal 5V.
Parameters: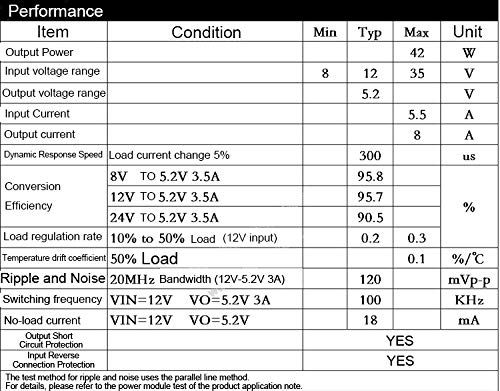 Dimension: