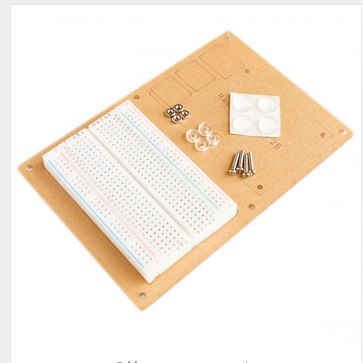 400 point Breadboard + Mounting Plate Prototype Experiment Plate for Raspberry Pi 3 & Raspberry Pi 2 Model B
---
Introduction
One of the biggest challenges when prototyping is just keeping everything in place. The 40 Pin ribbon cable between a Raspberry Pi and breadboard can be difficult to work with on the bench. This flavored prototyping plate aims to solve the problem! The plate is produced with laser cut 1/8″ acrylic in an awesome transparent color.

It has 8 perimeter mounting holes as well as plenty of space for the included adhesive rubber feet - this should keep your project where you want it! Next to the Pi, a Solderless breadboard can be mounted using its adhesive backing.
Packing List:  (not included Raspberry Pi )
1pcs* Mounting Plate

4pcs*machine screws

4pcs* nuts

4pcs* adhesive rubber feet

1pcs* 400 point breadboard
Mounting Plate Size:150mm x 100mm x3mm
Note: Mounting Plate has a sticker outside, which can prevent your beautiful case from scratch.You just gently scratch the sticker off the case. It is quite easy.